Allied Performance Ltd
»
Penske Racing Shocks

Penske Racing Shocks is the world leader in custom damper applications. Our catalog contains different types of shocks with standard lengths as well as certain available technologies. However, a large part of our business are things that will not be found in our selection of standard parts nor in any catalog. We have the capacity and are equipped to design completely bespoke damper systems in incredibly rapid timeframes. New concepts are formulated in cooperation with the client and these ideas are then transferred to detailed designs then put into production all in a matter of days or weeks. As such, we are majority supplier in Formula One racing and continue to work closely with all types of clients in the motorsport and defense industries. We hold confidentiality as paramount and develop exclusive designs for many clients to achieve their own advantage.
Our design staff is a talented, motivated group of engineers that understand the demands of racing and will take every measure to ensure complete satisfaction with any custom shock. All new parts receive computer aided FE analysis to validate loads and stresses at operating conditions. Additionally, we work closely with clients during the design phase in checking fitment of our dampers in their suspensions using 3D models and clearance checks. If needed, rapid prototypes of parts can be produced before going to production.
Many facets comprise client satisfaction but the highest priority is placed on quality assurance, performance testing, and safety testing of all of our custom products. To this end, when new physical parts are produced and delivered, they are first checked in our in-house quality department to ensure all crucial features and dimensions have been executed. Then our engineers and technicians assemble the units and put all new designs through their paces on our in-house dynos and test equipment which completely characterize the dampers before delivery. Personal training of team personnel on new systems can be arranged on site or at Penske Racing Shocks and our technical staff are available around the clock to support all clients.
We supply many clients around the world with the highest quality components, most innovative thinking and design, and best technical support. Custom projects are our strength and our edge; they keep us at the forefront of damper technology. What we learn in this area is applied to every Penske Racing Shock we make.
---
Penske Racing Shocks Categories
---
Penske Racing Shocks
Products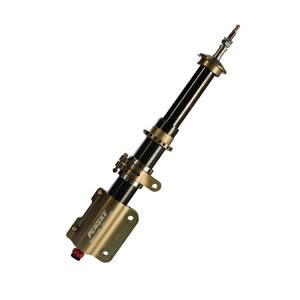 Description:
Penske Racing Double Adjustable Strut and Shock Set
Item #:
PS-7565DA-MUSTANG